Joseph Howard
, or JoHo, nicknamed the
Polarizer
, is a top-10 contestant in
Ten Words of Wisdom
season 1
.
Game status
Edit
Joseph Howard is dead as of TWOW 23B.
Joseph Howard was the last living TWOWer to join TWOW Central.
JoHo was the first TWOWer to use a trademark symbol.
Joseph placed 4th in TWOW.
He and Midnight's second response both had Green blend in with the zombies, so it is assumed by Cary That Midnight Light caused his elimination.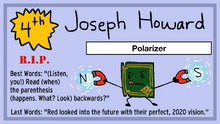 Responses
Edit
Responses (edit)
Episode
Response
Ranking
Average percentile
Standard deviation
Words
1
Sick of being last, it moved to take December's front.
21
73.5630%
24.8300%
10
2
You can try to beat the cold with sticks. Try.
63
60.5681%
26.8549%
10
3
It served as a prison for beasts with terrifying power.
123
50.7485%
23.5111%
10
4
Aardvarks are always awkward, but are also apt at alliteration.
66
55.6308%
32.1152%
10
5
Winter's final breaths
Frost turns yellowing grasses
To glittering gold.
22
61.7393%
27.2288%
10
6
Lipograms, such as this! Look it up, if you must.
65
50.8877%
29.2110%
10
7
I would Cruz around, Trumping any Obama-nation to world peace.
28
55.1382%
30.1755%
10
8
Art exudes several themes, hence every theme is credited separately.
14
60.5744%
27.3308%
10
9
I find comfort in cooking(,) my family(,) and my pets.
35
47.9224%
34.6459%
10
10
Swiper from Dora was kleptomaniacal. He needed help, not shaming.
17
54.2227%
34.0246%
10
11
They never do anything quietly. They won't get attention, otherwise.
19
50.3130%
30.5119%
10
12
Climbing was now illegal, according to the tree's executive branch.
1
66.3003%
32.2252%
10
13 (Entry 1)
Interferense patturns emerjing inn teh duel-slit experament deminstrate wave-partacle duelity.
3
58.4589%
29.7789%
10
13 (Entry 2)
Hypurtention culd bee uh sever risc faktor ov Dire Beedies.
N/A (15.1)
48.9097%
27.0301%
10
14 (Entry 1)
This magniloquent writing, alphabetically diversified, laxly jam-packs all anglicized glyphs.
7
53.0955%
30.8305%
10
14 (Entry 2)
Diversity is a concept one must pursue throughout their lifetime.
N/A (8.1)
52.2873%
28.5984%
10
15
EveryFlavor™ Gum Shop: All the taste, none of the shame!
2
55.2281%
30.2186%
10
16 (Entry 1)
Boooy, that was original. You come up with that yourself?
2
56.4877%
31.3148%
10
16 (Entry 2)
I'm so smart, I know you'll respond in ten words!
N/A (9.1)
48.8401%
30.9102%
10
17 (Entry 1)
Be idealistic. Outdo diverseness. Imagery varies. Environment replete. System evolves.
2
57.3360%
30.8029%
10
17 (Entry 2)
Heads-up: Your prejudice ought cease. Reason, instead. Tackle exterior senselessness.
N/A (7.1)
52.4858%
32.4973%
10
17 (Entry 3)
Quixotic wiki e-book, reputable bachelor... Yea, kingdom is nostalgia, gloomily.
N/A (10.7)
37.4324%
29.9261%
10
18 (Entry 1)
(Listen, you!) Read (when) the parenthesis (happens. What? Look) backwards?
1
72.41%
31.29%
10
18 (Entry 2)
W(help, I am tra)i(p)sing, (pe)ace(d, in a two)fold s(w)illed (submission).
N/A (8.5?)
44.65%
28.37%

10

19 (Entry 1)
I would answer, but these physics are a dark matter.
1
57.98%
30.17%
10
19 (Entry 2)
Darkness moves as quickly as light leaves. Therefore, it's light-speed.
N/A (0.16)
46.42%
28.86%
10